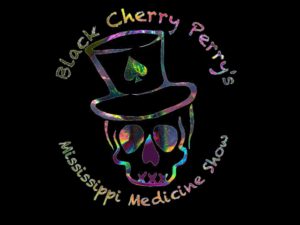 Vocalist/harp player Black Cherry Perry conceived the Mississippi Medicine Show in the fall of 2003 while on a trip to the Mississippi Delta, just south of Memphis.
"I was a rock and roll lover with no musical background but was introduced to the blues and characters like Robert Johnson, Muddy Waters, Howlin' Wolf and Willie Dixon through bands like Led Zeppelin, the Stones, Jimi Hendrix and ZZ Top."
"I started writing songs, emulating Willie Dixon and trying to learn the vocal phrasing of Muddy Waters, jamming with local musicians and eventually developing a repertoire of over 100 original songs."
"In 2003, I had a life changing experience. 2003 was the 100th anniversary of WC Handy discovering and then publishing blues music. I took a trip to the Mississippi Delta, just south of Memphis, to see it all for myself. I met a young gypsy woman in West Helena, Arkansas who completely changed everything for me. She told me about my past, my present and what my future could hold.
"In 2005, I met ailing Canadian blues veteran Back Alley John, in Calgary Alberta, who took me under his wing. In addition to harp lessons, Back Alley let me sit in with him at his jams and gigs. After a while he was too sick to host his jam at the Point on 17th. I was asked to take it over."
That same year Black Cherry Perry's Mississippi Medicine Show came into being and has developed into a dynamic original recording act.